Please note that a RADIUS Server is considered a networking related software, so you are expected to be familiar with some advanced concepts about computers, server software and networking. Evolynx RADIUS Server requires Microsoft .net 2.0 to be present on the target computer. It also requires access to a SQL Server database, either on the local computer or on a remote server. The Administration site (EvolynxAdmin) requires IIS (Internet Information Services) to be present on the local computer. If you are not familiar with these software components, please take a moment to determine if you have all these requirements available. Following checklist may help you prepare for the installation:
What is the OS (Operating System) of the target computer

Is IIS installed on this computer?

Is ASP.net 2.0 installed (and activated for IIS) on this computer?

Is .net 2.0 installed on this computer?

Is SQL Server installed on this computer, or on any other server available on the network?

If SQL Server exists, what is the server name and instance name? What are the credentials to login to that SQL Server?

Do you have Administrative privileges to install software on target computer?
Note: When SQL Server is not available, you can download and install SQL Server 2005 or 2008 Express Edition for free from Microsoft Web Site. The Express Edition has some limitations, but may be adequate for your purpose. You can download SQL Server Express for free.
When you feel you have answers to above questions, you can continue with the installation process.
Visit Evolynx RADIUS download page and download the appropriate package for your operating system. There are 2 packages available, one for 32 bit OS and one for 64 bit OS (x64). Downloaded file is compressed as a ZIP file. Unzip the file and double click the MSI file. You will see the Welcome screen: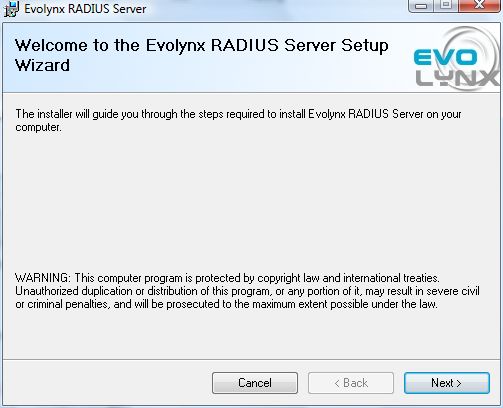 Click Next and you will see the License Agreement screen: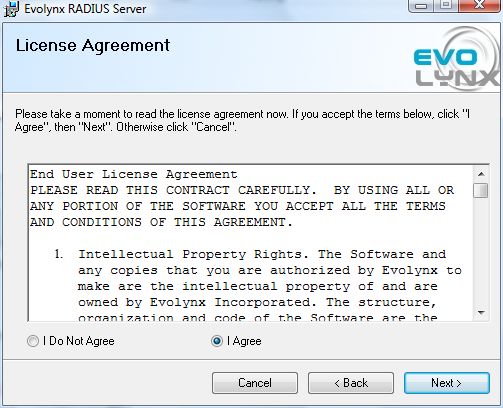 Select Accept, then Click Next. The next screen allows you to select what components you want to install: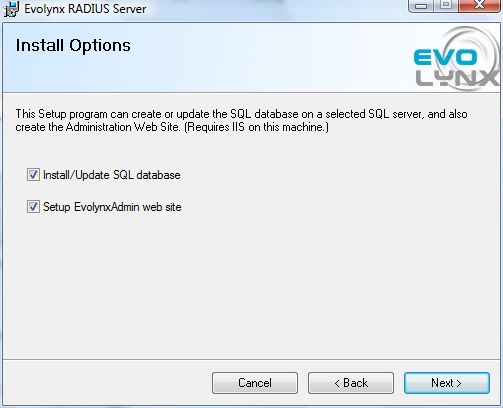 You can select to install or update (if exists) the database elements (tables and stored procedures) in the SQL Server, and setup the IIS virtual directory for the Web Admin tool. The next screen provides boxes for you to enter SQL Server address and credentials: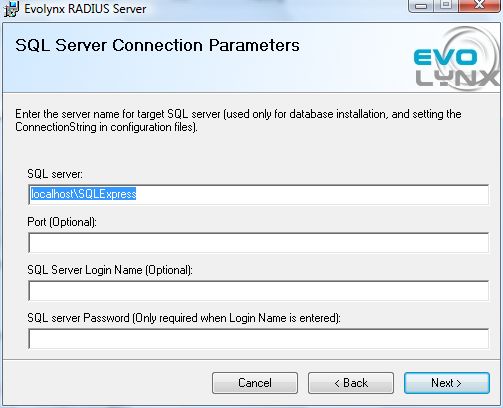 Make sure you enter correct name for SQL Server computer and instance. For example, SQL Server Express edition installed on the local computer is normally accessible at localhost\SQLExpress. If you are logged in using a Windows account which has full SQL rights (to create database and database elements) you do not need to enter SQL Server login name or password. Next screen is the Installation Folder: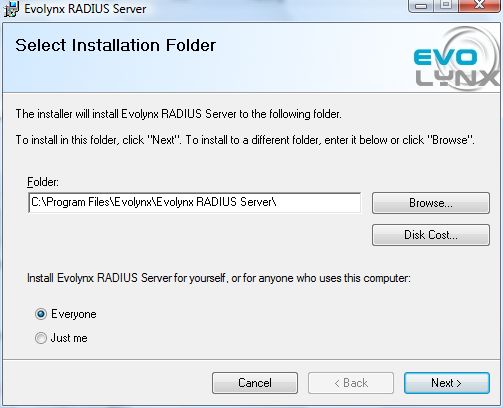 After confirming your selection of options, installation begins and you will see the progress: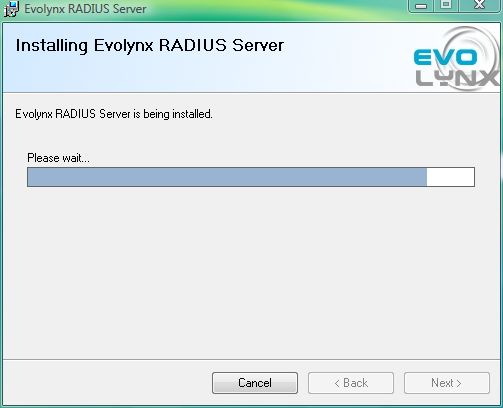 At the end of the installation, you will see some final notes and information: