Evolynx RADIUS can be used for VoIP Authorization and Accounting. Following steps describe how to setup your RADIUS server for VoIP use.
You will need both Server and Admin programs.

Make sure your IVR script is not set to overload the acct-session-id. To disable overloading in Cisco IVR, use following command:
no attribute acct-session-id overloaded
1- Configure VoIP features using Controller tool. See VoIP Configuration Settings for more details.
2- In Admin program, define a Service for VoIP. Enter all information as you need. A typical service setting is shown in the following picture: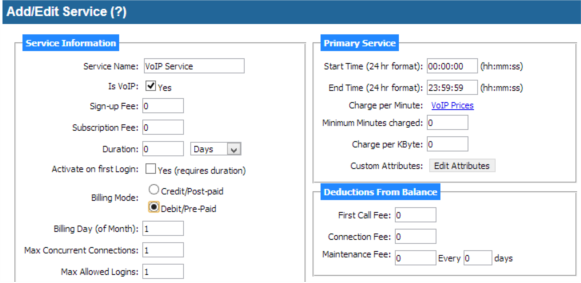 3- Click on "Save" button before going to next step
4- To define calling rates for each country code, click on "VoIP Prices" link. A new page pops up which shows a list of "Country Codes" and prices. When you first create a Service, this list will be empty. Click on "Add a new country code" link to add new entries to this list. The following shows the data entry page for new Country_Code/Price:
5- After entering prices for some country codes, the "VoIP Prices" page will look like the following picture:
If you need to define different prices for different area codes in a country, simply add separate entries for each area code so the "Country Code" field will show country code followed by the area code.
6- Now you can define a Customer for each Pre-paid card, and assign this service to that customer and add the Card's PIN number as Login ID and Card's serial number as the password.
Note: To simplify data entry for VoIP rates (prices), Evolynx Web Admin lets you create a comma separated text file containing prices and upload it. This file must contain one area code/price combination per line, and area code must be separated from the price by a comma. For example:
1 , 0.05
44 , 0.07
213 , 0.14

There is an upload button on the "VoIP Prices" page which displays a popup, and lets you select a file to upload. Click on "Browse…" button and select the file, then click on "Upload File" button.